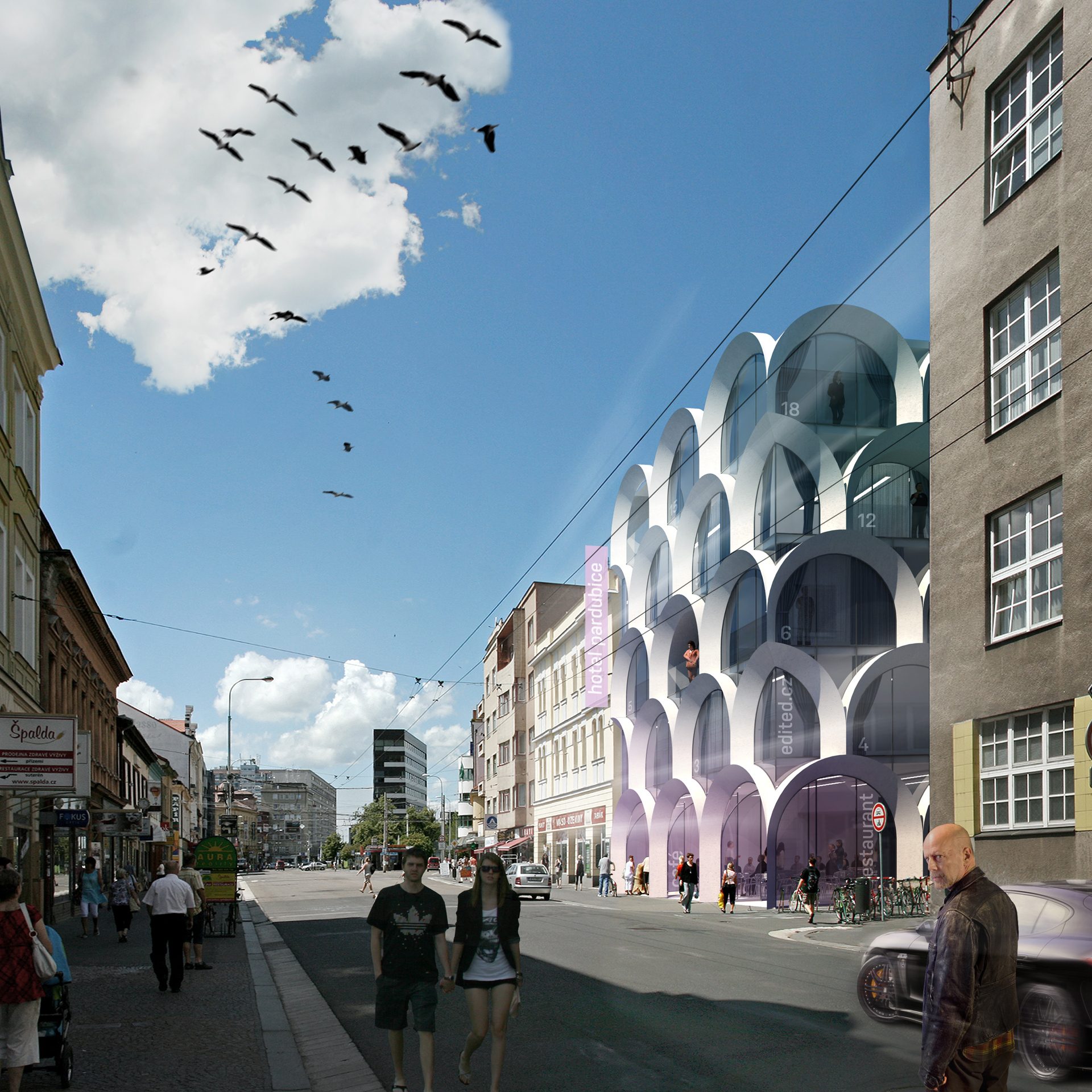 Perníkový hotel
guerilla architecture 2011
Třída Míru in Pardubice – the main city boulevard of a self-confident, thriving city with a rich history. However, Třída Míru is missing one tooth – the plot on the corner of Na Hrádku Street has been empty for several years and is waiting for its next fate. It is in the city's interest to add a new building in such a prominent location, which would contribute to the public life of the centre.
However, the land does not belong to the city. So what happens to it next? And what needs to happen for something to happen? We have decided to respond to this question proactively. We believe that civic activism can make a bigger difference than just watching and criticizing. Since our profession is to transform (edit) the environment through building design, we offer possible solutions within our professional abilities. We come up with a concrete proposal that benefits both the landowner and the city and its residents. Our aim is to help make something happen. At the same time, we ourselves are curious to see if anything happens at all.
So what can happen? Historical photographs suggest that there was a single-storey house with a gable roof on the site around 1940. It was later replaced by a prefabricated convenience store building, which was sold by the town and the land at public auction in 2002, followed by demolition. Since then, various kinds of temporary fencing have been defacing the main avenue. As Pardubice lacks enough representative accommodation facilities, it seems appropriate to build a modern design hotel on this land. We propose a five-storey building that does not overwhelm its surroundings, yet its character becomes a distinctive element in the surrounding development. The façade of the hotel is loosely inspired by the arcaded arches of Pardubice Castle and the chamfered arches of the House U Jonáše, yet it makes its contemporary character clear. The café and restaurant on the ground floor attracts all passers-by.
Bruce Willis would have loved it here.