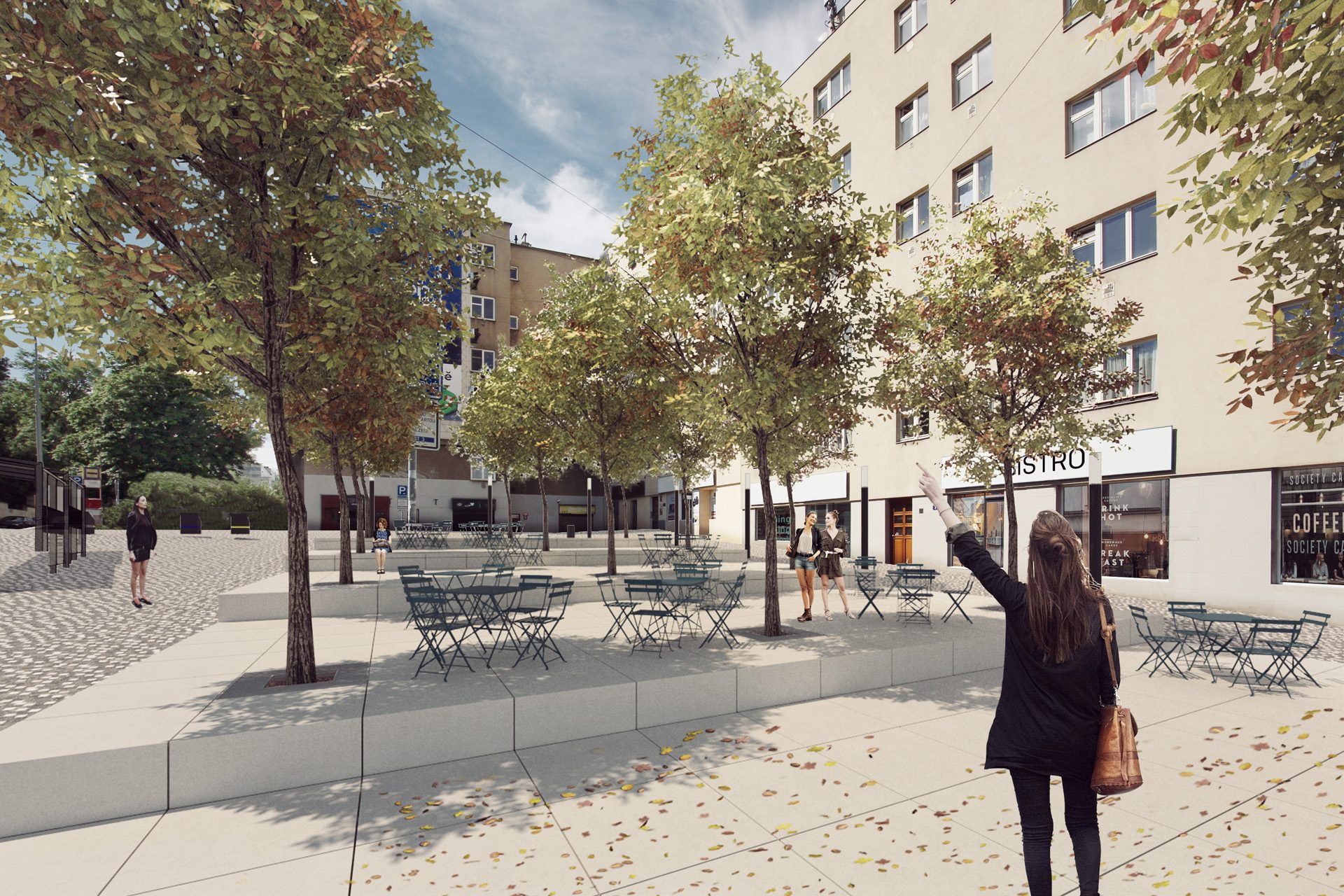 Olšanské Square
study 2017
Piazetta Jičínská
In the atypically carved out profile of the Jičínská street, where it opens into the Olšanské square, nowadays a parking spot is located. As a part of the efforts to ease the traffic the Olšanská crossroad, we propose a sloping piazetta, which connects itself to the business parterre of surrounding buildings. The sloping public area is leveled with multiple platforms, which serve as an extended space for the seasonal activities of nearby coffee shops and restaurants. New important element are trees, that help in creating pleasant microclimate in their surroundings. Our material solution is based on the traditional Prague granite mosaic, solid granite cube paving used in places of traffic load and blocks of concrete, which are used as a lining of the platforms. The whole space is equipped with new urban furniture. High concentration of local residents, students, sportsmen, shoppers, hotel guests and visitors of the Olšany Cemetery, offers big potential for development of the whole locality around Olšanské square.

Resting zone Ondříčkova
Even though the Ondříčkova street is in its lower part an important connection between Žižkov (city part) and Olšanské square, its present form does not correspond with it. The essential functional problem is the absence of a pathway for pedestrians alongside the OC Bezovka, which with the supply ramp forms an impassable and functionless public space. That is why our design primarily focuses on fixing these imperfections and by remaking the layout of traffic lanes, a small traffic island with trees is created. Next to the building of school, we propose a new resting area, right in the local broadening of Ondříčkova street. Relatively wide strip of sidewalk is newly remade into a combination of a pathway and a park. Present trees are kept in place and a few more are added in the area filled with different types of grass pavement, which is used not only in order to improve absorption of water, but also to improve the overall atmosphere. This new public space is equipped with park benches and other urban furniture. The area is lined on both sides with a pavement made out of the traditional granite mosaic.